Adventure Art captures the essence of being there©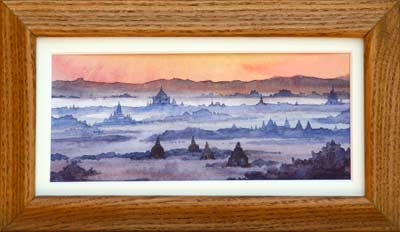 Pagan Sunset Mist Miniature
Location: Myranmar, Pagan
Image Size: 2.5" x 6"
I only traveled once to Burma (now Myranmar). The highly-orchestrated Tourist Burma 7-day itinerary was demanding. But a slice of peacefulness and calm was found at this view of the temple-studded plain at dusk. The Irrawady River flowed below the glowing mountains in the distance.