Adventure Art captures the essence of being there©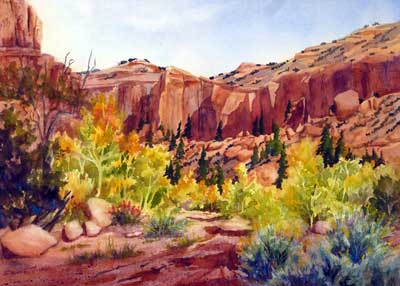 Sunglow Canyon Fall
Location: Utah, Fishlake National Forest
Image Size: 10.5" x 14.5"

Even before I finished getting my art supplies completely unpacked from our move to Colorado in the fall of 2012, I entered a plein air competition in Escalante, Utah. I really enjoy painting outside, despite the technical challenges. I had often painted simple sketches in pen & ink with watercolor. However, I had never attempted a larger, studio painting outdoors, especially in a competition.

The Escalante Canyons Art Festival gave artists up to 6 days to paint in any of 3 adjacent counties of Utah. So, after getting my paper stamped, I hiked up a canyon near our campsite, carrying water, easel, paints, stool, etc. I worked on one painting in the morning light, then another in the afternoon light.
In the end, I won an Honorable Mention for this painting in the final show and it was purchased by a local rancher.