Adventure Art captures the essence of being there©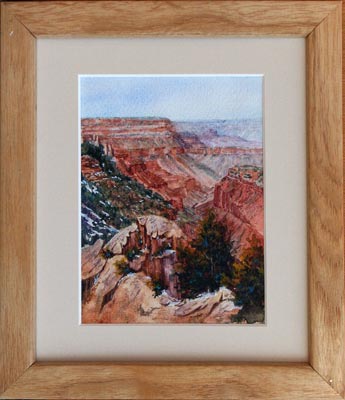 Grand Canyon Vista Miniature
Location: Arizona, Grand Canyon National Park, South Rim
Image Size: 5" x 3-3/4"
It was dark with temperatures well below freezing when I arrived from Death Valley at the South Rim. Since I slept in the back of the pickup, I rose at dawn to thaw out and stretch. I drove the rim, excited as a little kid, stopping at every viewpoint, even though I had been here several times in the past and had hiked twice down to the river. When I decided to paint this miniature, it seemed that only a vertical painting could capture the sense of the canyon depth that I had felt at the viewpoints on that trip. Please view the full-size painting in the Sold/Archives Gallery.